As we continue to await the return of the Champions League - and sports in general - there's no better time to look back on the past. Today, we're ranking all the Champions League winners from the 21st century.
19. Liverpool (2005)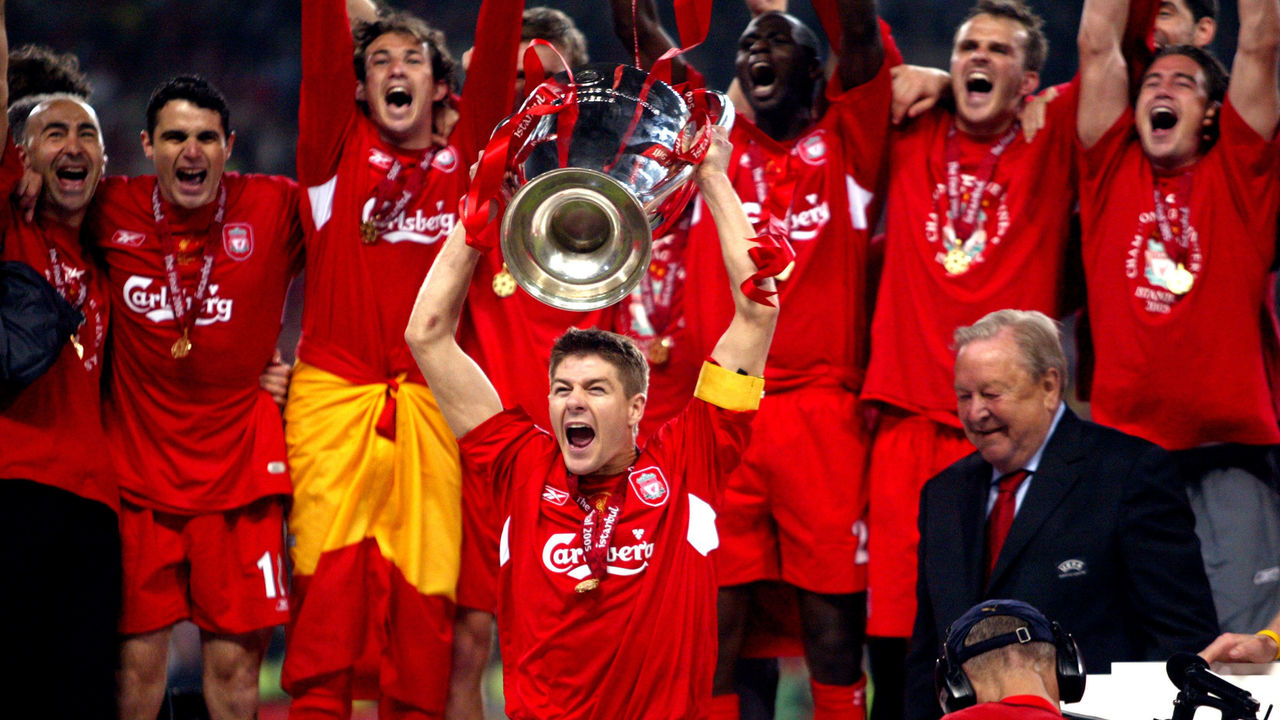 Liverpool's epic comeback against AC Milan - the Miracle of Istanbul - is among the most stunning moments in football history, let alone in the Champions League. It will live on forever. But strictly from a talent perspective, this team was surprisingly underwhelming outside of Steven Gerrard and Xabi Alonso. Djimi Traore started in the final!
18. FC Porto (2004)
The shock factor here can't be overstated. Prior to FC Porto's unlikely triumph, it had been nine years since a club from outside Europe's top five leagues won the premier continental trophy. It hasn't happened since. Using a squad built almost exclusively around Portuguese products, the victory over AS Monaco in the final rocketed Jose Mourinho to prominence.
17. Real Madrid (2016)
Every champion has benefited, in one way or another, from some fortunate breaks on their title-winning journey. This Real Madrid team was a prime example. A cupcake draw smoothed the road to the final, where a missed offside call allowed Sergio Ramos to open the scoring against Atletico Madrid. Diego Simeone must see those white Real kits in his nightmares.
16. AC Milan (2003)
AC Milan's 2003 showpiece match against Italian rivals Juventus was easily one of the worst Champions League finals in living memory; the two teams combined for eight shots on target. Nonetheless, outside of the unremarkable Kakha Kaladze, this Milan squad was littered with iconic players at every position. Winning dull is still winning.
15. Chelsea (2012)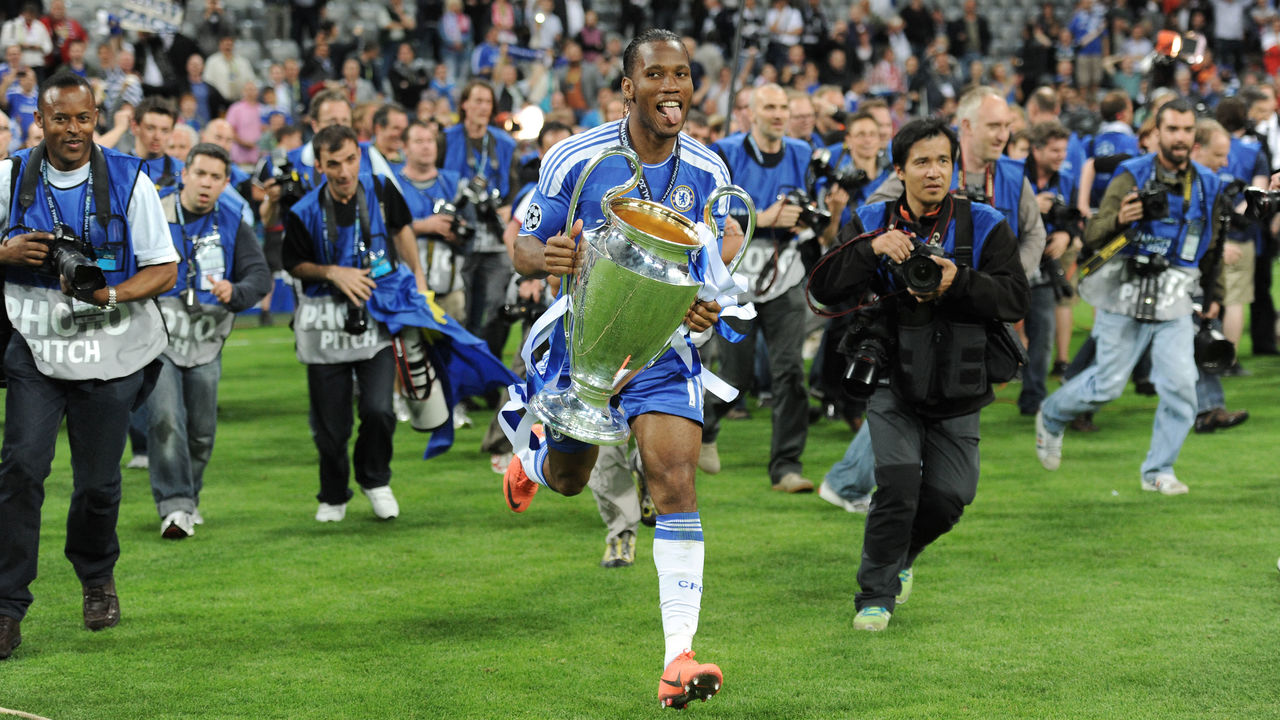 That Roberto Di Matteo actually masterminded this victory still boggles the mind, but it's impossible to ignore the collection of memorable moments that led this Chelsea side to its first - and to date, only - Champions League title: the wild Napoli comeback, Fernando Torres' goal against Barcelona, and, of course, Didier Drogba's heroic header.
14. Real Madrid (2018)
Not unlike 2016, Real Madrid were on the right side of some hugely contentious moments, while Loris Karius' horrific performance practically gifted Los Blancos their third successive crown. That said, their path to the final speaks for itself; Zidane and Co. beat the champions of France (Paris Saint-Germain), Italy (Juventus), and Germany (Bayern Munich) just to reach the final against Liverpool, who were no slouches themselves.
13. Bayern Munich (2001)
Bayern Munich overcame their traumatic 1999 defeat to Manchester United to hoist the trophy two years later. Germany legend Oliver Kahn was the hero in the final, but this was all about the run to the final, which saw Bayern beat United and Real Madrid en route to celebrating their fourth European conquest.
12. AC Milan (2007)
Two years after their harrowing - and historic - choke job in Turkey, Milan buried some of those demons by beating Liverpool in their rematch despite no longer having Andriy Shevchenko banging in goals. The reason his absence didn't cripple the side was simple: Kaka. The Brazilian was at his elegant best in 2007, sweeping the individual awards, including the Ballon d'Or.
11. Barcelona (2006)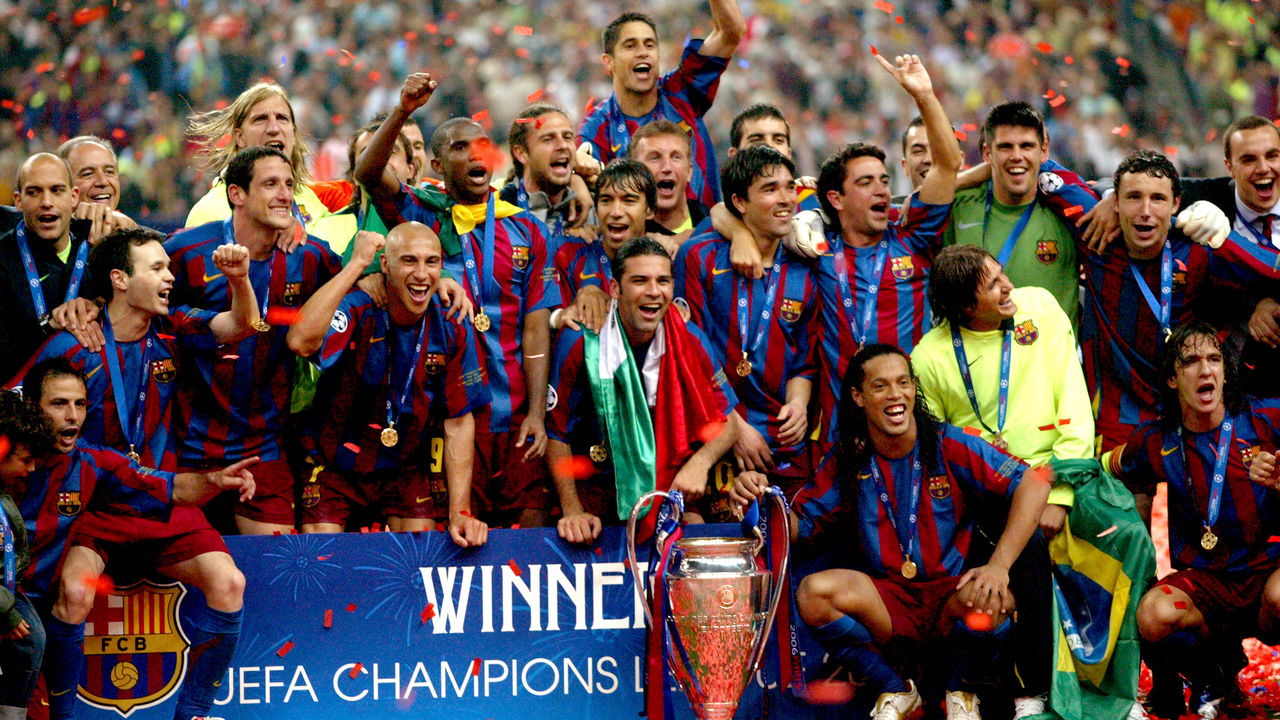 We'll never know what would have happened had Arsenal 'keeper Jens Lehmann not been sent off early in the final, but that shouldn't distract from the biggest takeaway of that year's tournament: Ronaldinho stole the show. Months removed from winning the Ballon d'Or, the Brazilian finished second in scoring in the 2005-06 tournament and tied for the lead in assists.
10. Real Madrid (2014)
In one fell swoop, Real Madrid ended their 12-year wait for Champions League success and kicked off a spell of continental dominance that would see them win four titles in five seasons. They scored 41 goals in 13 matches that year; Cristiano Ronaldo's 17 tallies remain the most ever scored in a single Champions League campaign. Aside from the wild win over Atletico Madrid in the final, the destruction of Bayern Munich in the preceding round will live long in the memory.
9. Inter Milan (2010)
At a time when Barcelona's possession-based style was heralded as the be-all and end-all, Jose Mourinho got a veteran Inter Milan squad to buy into his more rigid defensive scheme. Samuel Eto'o sacrificing his personal stats to play out wide epitomized this team, which claimed a memorable win over Barca in the semifinals before a Diego Milito-inspired victory in the final.
8. Manchester United (2008)
This would have all been moot were it not for a fateful John Terry slip, but it's important to recognize how impressive this Manchester United team was. Carlos Tevez, Wayne Rooney, and Cristiano Ronaldo led the line, while a gritty midfield crew buttressed the center-back pairing of Nemanja Vidic and Rio Ferdinand, one of the great defensive duos of the modern era.
7. Real Madrid (2002)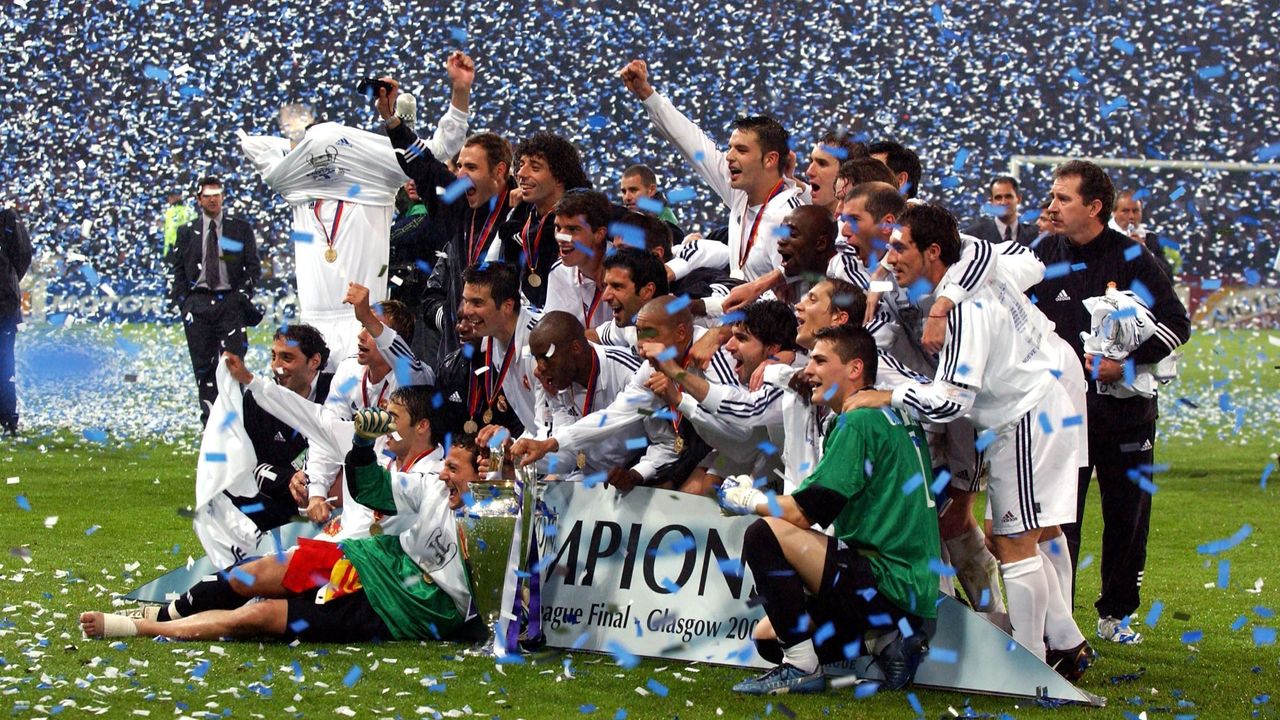 The crowning achievement of Real Madrid's first Galacticos era under Florentino Perez. The club's next Champions League title - the vaunted "La Decima" - took over a decade to arrive, so this 2002 triumph needed to hold up for quite some time. Good thing, then, that the winning goal from Zinedine Zidane was arguably the most iconic in Champions League history.
6. Real Madrid (2017)
This spell of Real Madrid dominance was a peculiar period. Their three consecutive titles from 2016-18 were highlighted by moments of individual brilliance rather than collective excellence, but the 2017 side was the best of the bunch. The midfield trio of Luka Modric, Toni Kroos, and Casemiro peaked, dominating in the 4-1 win over Juventus in the final.
5. Barcelona (2015)
Lionel Messi, Luis Suarez, and Neymar - dubbed "MSN" - wreaked havoc after linking up. The megastars complemented one another perfectly, scoring 137 goals in the 2015 calendar year. Two of those came in the Champions League final, when Suarez and Neymar helped Barcelona sink Juventus. The midfield wasn't too shabby, either.
4. Liverpool (2019)
A spectacular comeback win over Barcelona in the semifinal was the highlight of Liverpool's 2019 run to glory. The attacking trio of Mohamed Salah, Roberto Firmino, and Sadio Mane gobbled up most of the attention, but Jurgen Klopp's side was truly a unified juggernaut, as evidenced by their incredible campaign in the following season.
3. Bayern Munich (2013)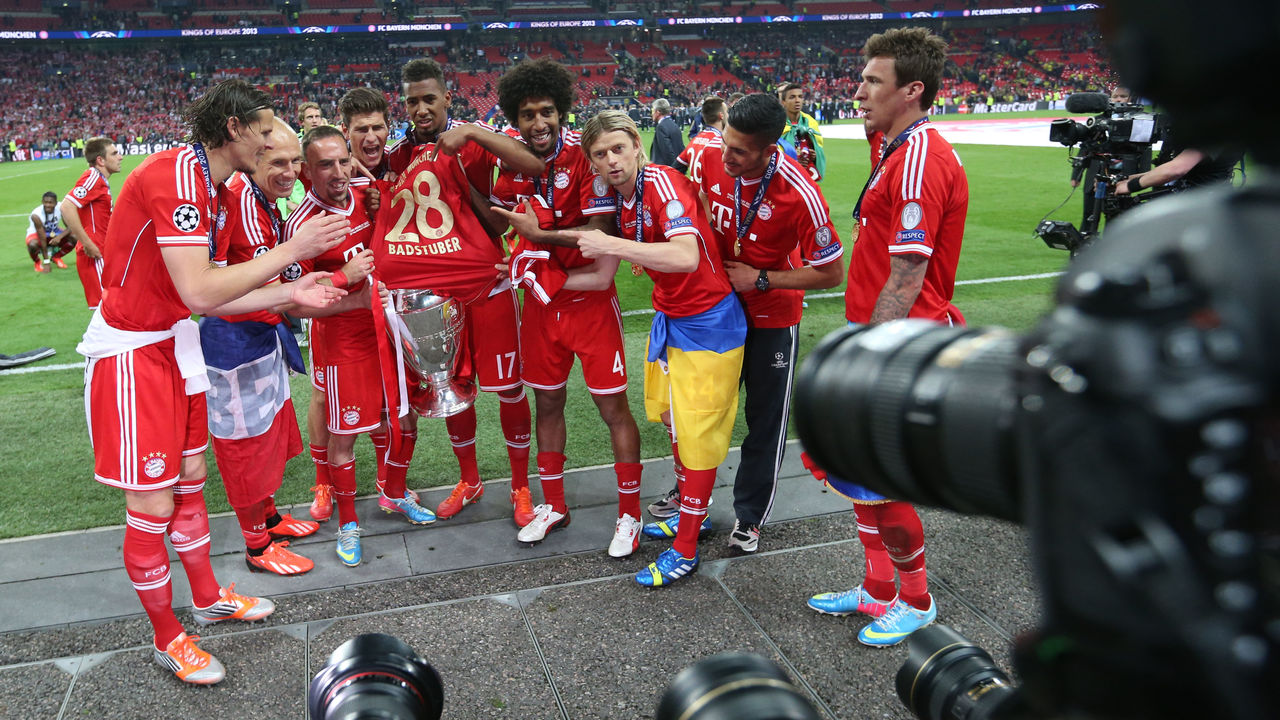 Pedigree all across the pitch. Five players who started the Champions League final for Bayern Munich in 2013 took the pitch for Germany in the World Cup final the following year, with Philipp Lahm captaining both sides. Exceptionally balanced, Jupp Heynckes' team really sparkled out wide, with the electrifying duo of Arjen Robben and Franck Ribery the star attraction.
2. Barcelona (2009)
This wasn't quite their final form, but my word, was it spectacular. Pep Guardiola built a fluid, dynamic, beautiful team in 2008-09. Lionel Messi was, well, Lionel Messi. The legendary midfield trio of Sergio Busquets, Xavi, and Andres Iniesta was entering its prime, and Thierry Henry added class up front. Yaya Toure lined up in central defense, with Carles Puyol at right-back, and they were still untouchable.
1. Barcelona (2011)
Two years after that indelible 2009 side changed the game, the 2011 edition of Barcelona perfected it. This team will go down as one of the greatest in the sport's history. If anyone would know, it's Sir Alex Ferguson, who, along with his players, was mesmerized by Guardiola's squad. "In my time as a manager, I would say they're the best team we've faced," Ferguson admitted after United's 3-1 loss in the final. "No one has given us a hiding like that."
more on TheScore.com