With the market set for another reset after the coronavirus pandemic, theScore takes a look at the most significant transfers in football history and explains the meaning behind the moves.
10. Gianluigi Buffon ➡️ Juventus
When Juventus signed Gianluigi Buffon from Parma in 2001 for €52 million, they invested in his ability to keep the ball out of the net, not his distribution skills.
He wasn't the kind of modern goalkeeper that scouts lionize today. But he was on the verge of becoming one of the greatest shot-stoppers the game has ever seen. Juventus made the move for Buffon using the money they collected from Zinedine Zidane's transfer to Real Madrid, and it's fair to say the cash was well spent.
Though Buffon has never won the Champions League with Juventus, he's won almost everything else in world football. He stuck with the Bianconeri when they were relegated for match-fixing, and continued to make high-flying saves well into his late 30s.
Now in his early 40s, Buffon has become a symbol of longevity. He set the record for the most Serie A titles won by a single player (nine), and in 2015-16, he went a record 974 minutes of play without conceding a goal.
9. David Beckham ➡️ LA Galaxy
Major League Soccer owes a lot to David Beckham. He's the reason Designated Players exist, and why MLS clubs have been able to attract more talent over the years.
MLS adopted the Designated Player rule in 2007, giving teams the right to sign three players beyond the salary cap. The likes of Zlatan Ibrahimovic, Thierry Henry, and Sebastian Giovinco wouldn't have played in MLS without Beckham. He's the reason big networks took an interest in the start-up league, and the reason Inter Miami, the team Beckham now co-owns, exist.
His appeal as a footballer was almost secondary, as Beckham was a marketing machine. There were reports he had signed a mammoth $250-million contract over five years. Grant Wahl, formerly of Sports Illustrated, debunked those theories and put Beckham's salary at a more palatable $6.5 million per season. Beckham won the MLS Cup twice with the LA Galaxy, but he made a greater impact off the pitch.
8. Sol Campbell ➡️ Arsenal
Sol Campbell would've never joined Arsenal from bitter rivals Tottenham if he wasn't available on a free transfer. Because of the Bosman ruling - which allows players with expiring contracts to move freely between clubs - Campbell was able to cross the north London divide without a fee.
Before leaving Spurs, he had asked the club for a significant sum - a reported £20 million over three seasons - but his request was denied. Arsenal, however, were glad to pay what he wanted to win one over their nemesis.
The deal was kept under wraps until Campbell walked out alongside Arsene Wenger at a press conference in 2001. The few reporters who had assembled at Arsenal's training ground thought they were going to interview Richard Wright, the goalkeeper the Gunners had signed from Ipswich Town. Instead, they got to write one of the biggest stories of their careers.
Campbell went on to form a crucial part of Arsenal's Invincibles, winning the Premier League twice and FA Cup three times.
7. Alfredo Di Stefano ➡️ Real Madrid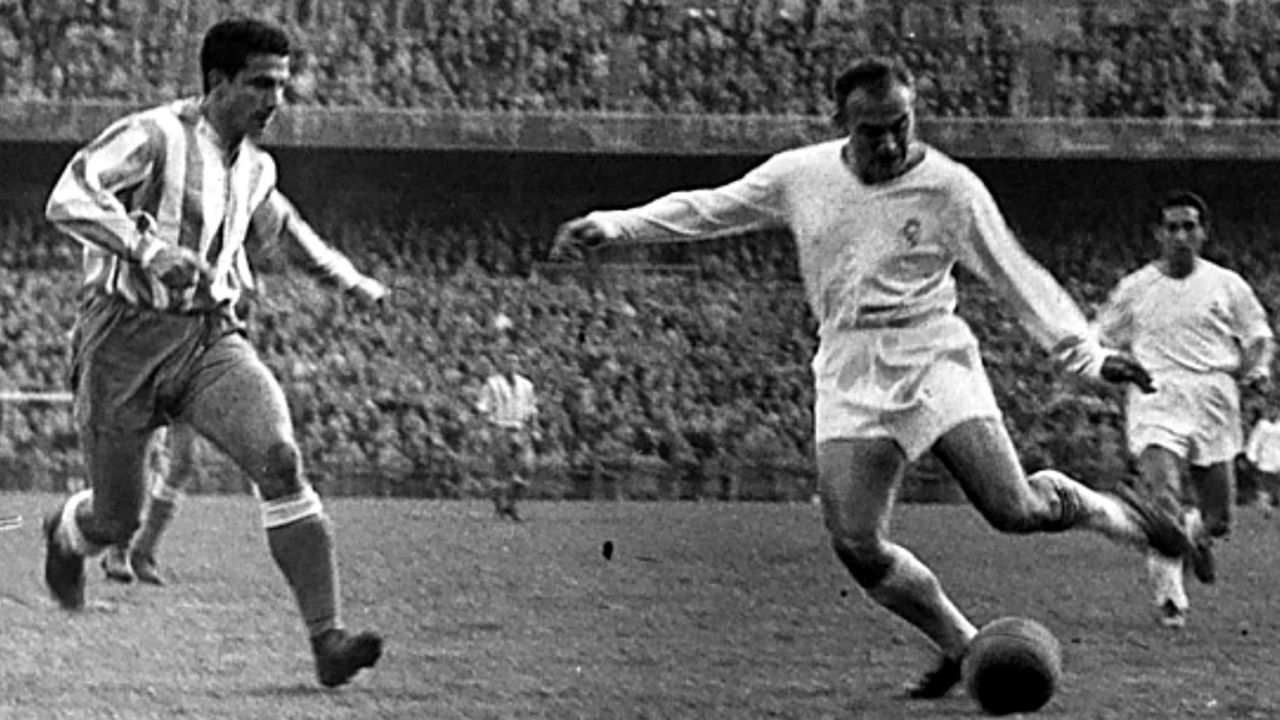 Real Madrid hadn't won a league title in two decades when Alfredo Di Stefano landed in Spain in 1953. He was actually supposed to join Barcelona, but Madrid entered the negotiations at a later stage to complicate things.
Barcelona were negotiating with River Plate because FIFA ordered Di Stefano to return to the club after a stint at Colombian side Millonarios. But the Colombians had a contract with Di Stefano, so they were dealing separately with Madrid. The Spanish Football Association intervened, proposing that Di Stefano could alternate his time between Barcelona and Madrid. Barcelona declined and decided to sell their "share" in the player to Los Blancos.
The rest is history. Di Stefano lifted the European Cup fives times with Madrid while also winning eight league titles, dragging them out of the doldrums and positioning the club as one of Europe's heavyweights.
6. Diego Maradona ➡️ Napoli
No one really knows how Napoli managed to sign Diego Maradona for a then-world record fee in 1984. Napoli were a mid-table club at best, and they had spent the last couple of years staving off relegation to the second division.
But suddenly, without much explanation, the club swung the deal of the century, signing one of the greatest players on earth from Barcelona. Journalists were obviously suspicious of the mafia. There were rumors the Camorra had financed the deal. Club president Corrado Ferlaino denied all accusations at the time.
But it was the perfect match. Maradona was a subversive character, and as someone raised in the slums of Argentina, he understood the people in the poorer areas of southern Italy. He spoke their language, so to speak.
With Maradona leading the way, Napoli won the Scudetto in 1987 and 1990, the ultimate act of defiance in a league and country divided by north and south.
5. Eric Cantona ➡️ Manchester United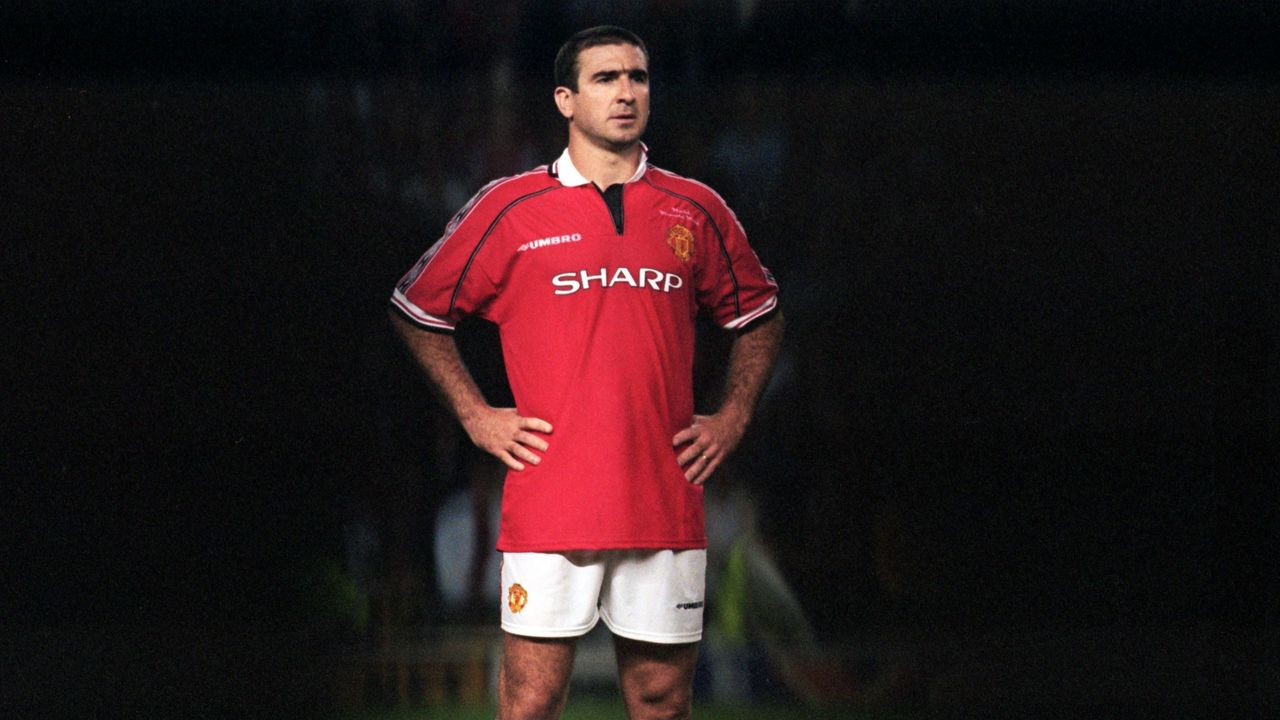 Faced with a shortage of goals, Sir Alex Ferguson had tried signing Alan Shearer and David Hirst before eventually landing Eric Cantona, the maverick Frenchman who played a bit-part role in Leeds United's title-winning campaign in 1991-92.
United gifted the title to Leeds that season, and Ferguson began to feel pressure from the board. The Red Devils hadn't won a top-flight title in a quarter century.
Cantona had an instant impact on the team. In the 37 league matches United contested before Cantona's arrival, they had amassed just 54 points and 38 goals. But in the following 37 matches, United collected 88 points while recording 77 goals. Cantona's swagger, goal-scoring ability, and overall aura propelled United to four titles over the next five seasons.
4. Zinedine Zidane ➡️ Real Madrid
A year after signing Luis Figo from rivals Barcelona, Real Madrid president Florentino Perez stepped up his pursuit of star power in 2001, spending a reported €77.5 million to acquire Zinedine Zidane from Juventus.
Zidane was at the height of his powers then, and the 29-year-old was one of the finest playmakers of his generation. He made an immediate impression, too, with his ridiculous volley against Bayer Leverkusen sealing the 2002 Champions League title and putting Madrid on nine European Cups.
Zidane's relationship with Madrid was only really beginning. Even after he retired, Zidane stayed within the system, first serving as Carlo Ancelotti's assistant and then taking over the youth team. When he was appointed manager in 2016, Madrid finally found the leader they needed, winning three consecutive Champions League titles under the Frenchman.
3. Johan Cruyff ➡️ Barcelona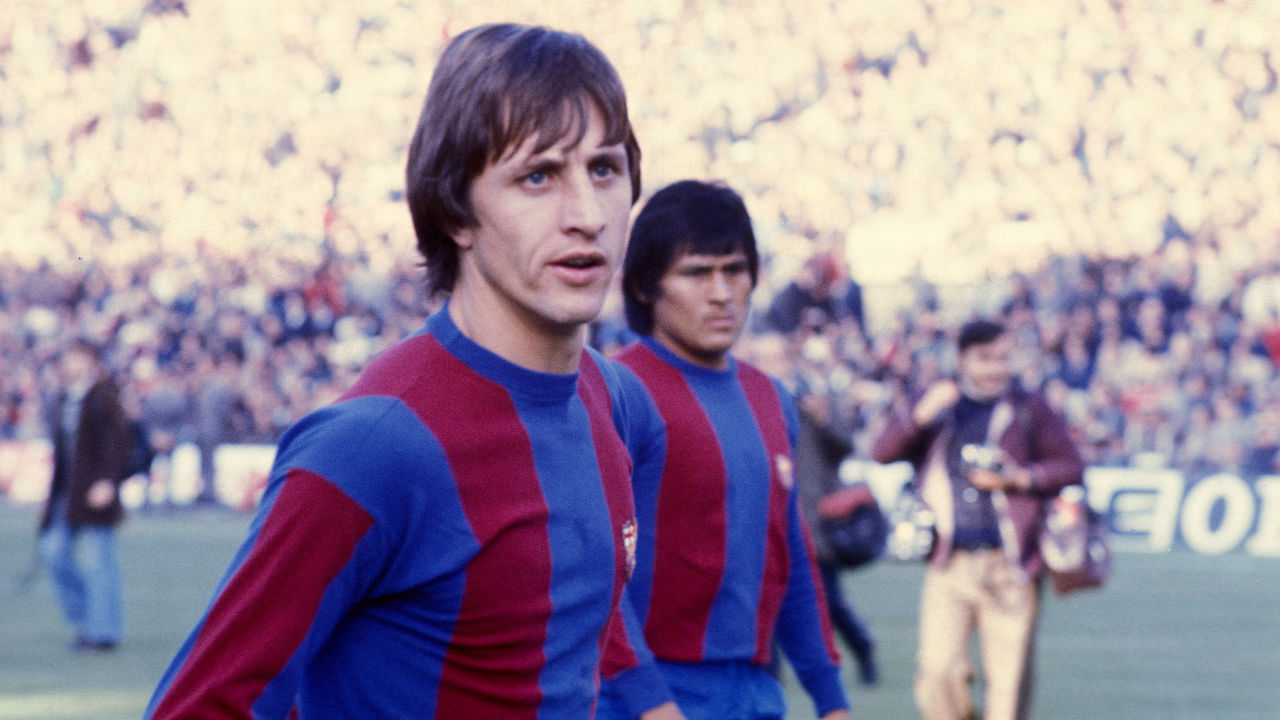 This one isn't so much about the fee or what Johan Cruyff brought to Barcelona as a player. As great as he was, the move was about more than that.
Cruyff's move to Catalonia in 1973 was the catalyst that made Barcelona more than a club, with the team spawning some of the best players at their respective positions and a generation of copycats. Pep Guardiola based his entire coaching philosophy on the very Cruyffian principles of possession and total pressing.
When the Dutchman returned to Barcelona as a manager in 1988, he laid the foundations for La Masia, the famed academy that produced the likes of Guardiola, Xavi, and Andres Iniesta. Lionel Messi, of course, spent his formative years there after his upbringing in Argentina.
Cruyff directed the youth teams to play the same way as the first team, focusing more on talent and technique than physical attributes. All the while, Cruyff's "Dream Team" won the La Liga title four straight years, dominating the competition from 1991-94.
2. Cristiano Ronaldo ➡️ Real Madrid
Cristiano Ronaldo was Real Madrid's answer to Lionel Messi. Club president Florentino Perez wanted someone who could rival Messi on and off the pitch.
Ronaldo became the more marketable footballer during his time in Spain, currently boasting 213 million followers on Instagram. But together, the two truly thrust Spanish football into its greatest era. The constant one-upmanship helped Ronaldo and Messi achieve even greater feats.
"I have no doubt that Messi has made me a better player and vice-versa," Ronaldo said last year.
But it was Ronaldo, not Messi, who moved to Spain to challenge himself and go up against the very best. His transfer is no longer the most expensive, but it remains one of the most important. With the individual talent to match Messi's skill, Madrid had the wherewithal to go head-to-head with Barcelona, and they did. El Clasico became a Super Bowl of sorts, a match hundreds of millions across the globe tuned in to watch.
1. Neymar ➡️ Paris Saint-Germain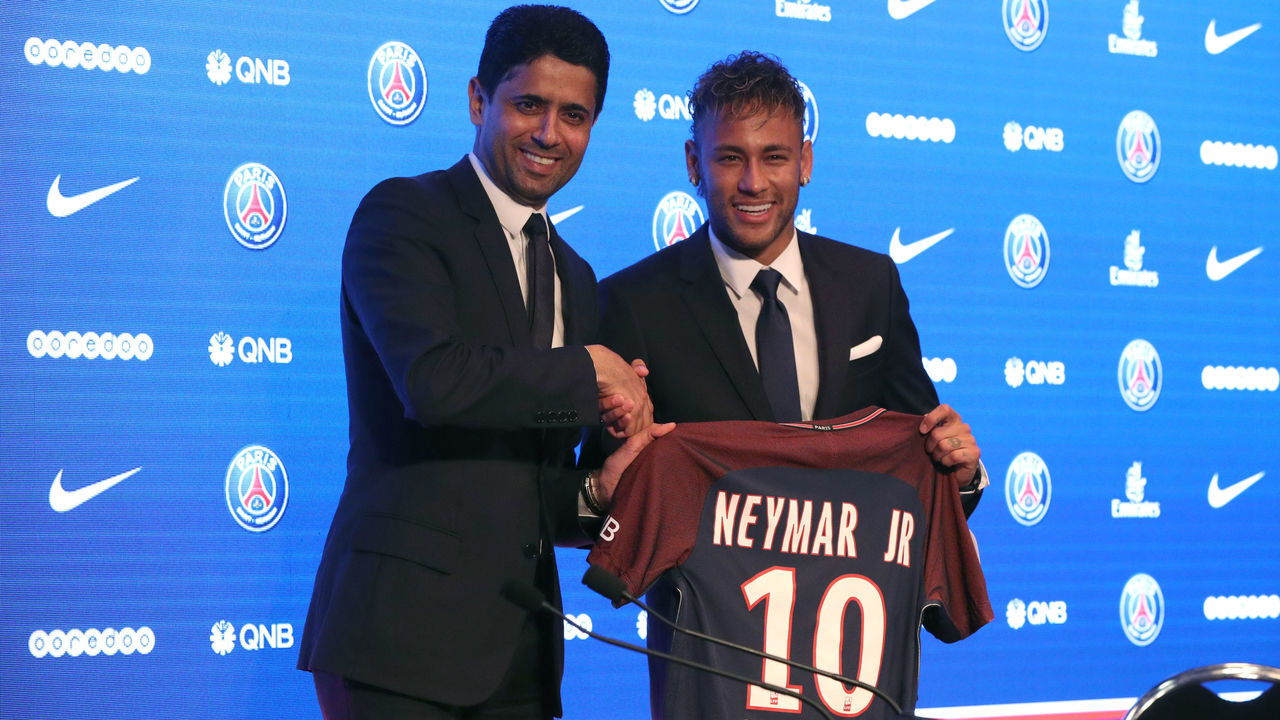 Neymar is first on this list, not because of his talent or global appeal, but because his move to Paris Saint-Germain upended and inflated the market. PSG paid €222 million to buy Neymar out of his contract with Barcelona, breaking a threshold that seemed unattainable even for the richest of oligarchs. PSG's statement was clear: No player was out of their reach.
The dominoes fell fairly quickly. Barcelona dropped €105 million on Ousmane Dembele that summer, but they continued to search for a proper replacement. Antoine Griezmann arrived from Atletico Madrid for €120 million, and that still wasn't enough. Rumors of Neymar's eventual return to the Camp Nou continue to persist.
But what about the rest of the market? Agents' fees continued to rise after the Neymar deal, which included a hefty payment to his father and powerbroker, Neymar Sr., and clubs struggled to keep up with the soaring costs. The current coronavirus pandemic may actually reset the market and bring those costs back down to normal figures, but Neymar's big-money move threatened to change the game forever.
more on TheScore.com